The Bangkok Gems and Jewelry Fair in its 58th edition was put together by the Department of International Trade Promotion DITP, after it has been organized and run by the Thai Gems & Jewellery Association for years.
Held from 7 till 11 Sep, the 58th Bangkok Gems and Jewelry Fair provided a significant opportunity for Thai gems and jewelry business operators to meet and negotiate trade deals with foreign operators from 33 countries across the globe.
The fair has always played a significant role in driving Thailand on the road to becoming the world's gems and jewelry center. The inauguration took place by Commerce Minister Mrs Apiradi Tantraporn (centre) and the director-general Ms Malee Choklumlerd at Royal Jubilee Ballroom, Impact, Muang Thong Thani.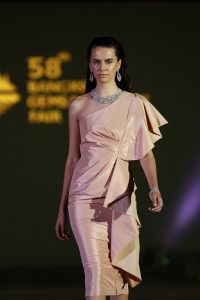 58TH BANGKOK GEMS AND JEWELRY FAIR (BGJF)
The exhibition space at the 58th Bangkok Gems and Jewelry Fair spans more than 60,000 square meters and is categorized in the following zones:
Prestige -a zone which brings together 13 major Thai gems and jewelry operators.
Diamonds – a zone featuring exceptionally high quality diamonds that meet international export standards.
International Pavilion – a place of products from various countries including the CLMV – Cambodia, Laos, Myanmar and Vietnam – plus Singapore, Malaysia and Indonesia.
Silver Jewelry – a collection of a fascinating array of outstanding silver ornaments that come in unique designs made with high quality raw material and masterful craftsmanship.
Gold Jewelry – features a captivating and glittering display of gold ornaments.
Gemstones – a corner for decorations made from an extravagant variety of gems and colored stones from across the globe, such as rough gemstones, cut gemstones in different animal shapes with angles that sparkle, semi-precious stones and a special exhibition booth "Chantaburi City of Gems".
Pearls – a popular zone that showcases an alluring collection of pearl ornaments such as pearls from the South Sea and fresh water pearl.
Costume Jewelry – a new zone presented by the Bangkok Gems Fair for the first time and featuring costume accessories by designers.
Equipment & Tools – an interesting area where you will find equipment, tools and innovations relating to the gems and jewelry industry.
Thai Jewelry Brands – an engaging exhibition of Thai jewelry brands designed by a new generation of designers selected to join a project under which their skills will be polished by experts from New York.
The 59th Bangkok Gems and Jewelry Fair will be held from February 22-26, 2017.