TRENDING FASHION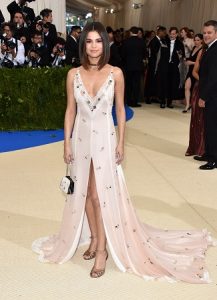 STUART VEVERS FOR COACH
1930s lingerie-inspired dress
Coach Creative Director Stuart Vevers designed a custom look for Selena Gomez to the 2017 Met Gala at the Metropolitan Museum of Art in New York City. The 1930s lingerie-inspired dress is in pale blush-colored silk chiffon featuring vintage lace paneling complemented with a deep neckline. Hand-sewn prairie floral embroidery with multicolored sequins reference prints found in the Coach Pre-Fall 2017 runway collection. Photo credit Getty images
---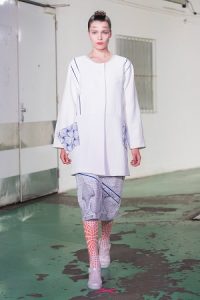 ALICIA DECLERCK & ZHANNA BELSKAYA
TOKYO by Alter Era
Alter Era, the label founded in 2015, by Alicia Declerck and Zhanna Belskaya, presented their SS17 collection Tokyo in Prague at Mercedes Benz Fashion Week. Tokyo is a light collection featuring three-dimensional prints inspired by Tokyo architecture. Its white undertone is brought in contrast with bright shades of blue, deep purple and orange. The silhouettes show characteristics of a contemporary "Tokyo Girl" with incorporated elements of traditional Japanese clothing.
---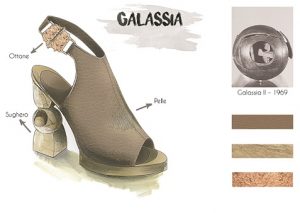 LAURA BREUER
Following the Roots
Her line of accessories pays tribute to Alfio Castelli's, her grandfather a sculptor from Senigallia born in 1917. Totally inspired from his artistic evolution, the shapes and the colors used in his sculptures, her line comprises models both for day and evening wear.
---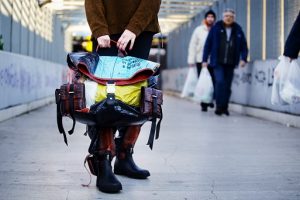 SILVIA STEFANUCCI
PLASTIC # 5
Designer Silvia Stefanucci introduces "PLASTIC # 5"; a unique picture of opposite lifes. Bag's volumes are designed to facilitate moving, with numerous pockets. The essence of the bivalent collection emerges particularly in the materials: fine leather and garbage bags.
---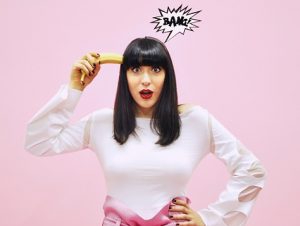 GIULIA UGAZIO
Through the time
The collection "through the time" is the first by Giulia Ugazio who conceived it as part of her graduation project at the university in Milan. The motto of the collection "nothing is what it seems" recalls the world of surrealism and illusion in vintage silhouette.
---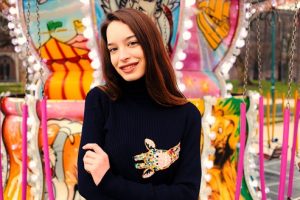 SIMONA FALCONI
"Metamorphosis"
Or the evolution of the woman with time… it is the core idea of the sweaters' collection designed by Simona Falconi as a graduation project. The designer from Sardinia targets a woman who doesn't conform to a social system but who expresses her personality and her femininity.
---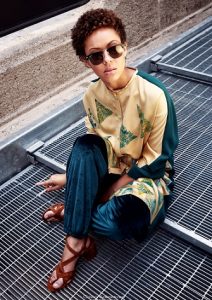 STEFANIA MARTINO
Two Cultures One Dress
Italian designer Stefania Martino designed this collection for her degree thesis. It was based on studying the conditions of Muslim and Western women belonging to two completely opposite cultures. She first realized the drawings in watercolor and then made both dresses and prints on fabrics, the materials used being velvet, silk and jersey. In her collection she tried to intertwine the two codes of dressing of the two cultures, finding a just positive balance from their union.
Designer: stefania martino – Styled by Alice Astore – Photographer: Cristan Salmistraro – Model: Jey Jirleys Crignano
---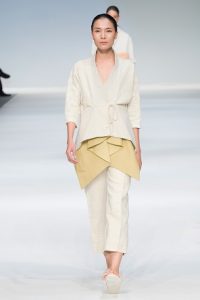 CORA BELLOTTO
The Initiation SS17
After winning the second price at the Eco-chic Design Award 2016/17 in Hong Kong, the Milan born designer Cora Bellotto created her first complete collection, The Initiation, inspired by the powerful quote by Jorge Luis Borges: "Is there on heart anything sacred? and something that is not?" The collection reflects the designer's personal reflection on her own concept of sacredness. It is a search for purity of lines and cuts, and the result is a sophisticated yet fresh mix of elegance and simplicity, matching rich fabrics textures with comfortable silhouettes.
---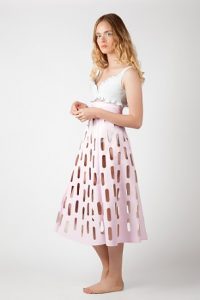 CORINNA AMBROSOLI
Nuances de rosettes
Born 1994, Corinna Ambrosoli, is an Italian fashion designer passionate for fashion since she was a child. She is a graduate from the renowned Fashion Academy in Milan NABA. Her latest collection "Nuances de rosettes" explores the space of the fantasy, border line between imagination and reality. Colors and shapes condense in a clear dream. Shades of bright tones, sweet and light pastel colors recall the world of the "Fifties".
---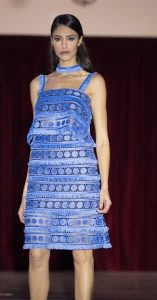 ENRICA BENEDETTA VADALÀ
It's Party Time!
It is the mood of the ENRICA BV SS17 collection. Designed and created by Enrica Benedetta Vadalà, the Italian "eveningwear" label of clothes is meant for young women with a very busy social life who need garments suitable for every occasion. All garments are made in Italy and sartorially finished in fabrics characterized by their innovative textures and bright colours. They are exuberant, sensual and feminine, with a distinguishing style aimed at stimulating our extrovert side because, after all, we dress up to seduce and be noticed. www.enricabv.it
---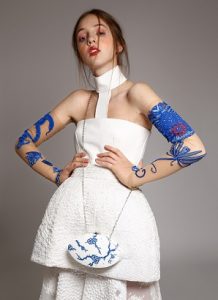 LUDOVICA SERRA
Innocence
Ludovica Serra created the Haute Couture collection INNOCENCE for her Graduation project at the Accademia di Costume e Moda. It is inspired by the eternal fight between pureness and oblivion. The designer used fabrics that resemble porcelain and some of them were woven precisely for her collection. "The realisation of this collection helped me understand how much important fabrics are, and it especially taught me to experiment with them in order to create something new," she says.
---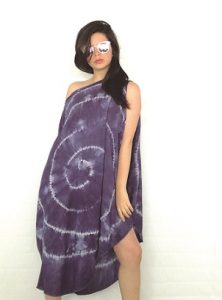 NATALIA RODRIGEZ
Singular
After graduating in 2015 from the Istituo Europeo di design in Rome, and working for almost one year as a freelance, the Colombian designer Natalia Rodrigez created her own brand Singular and devoted herself to it. Singular kicked off with a collection of scarves and here is Rodrigez following it with this collection of beachwear for SS17. Her love for colors, art, and handmade goods, inspires her conceive unique pieces created by experimenting with artisanal dying techniques and fabric manipulation.