TRENDING JEWELLERY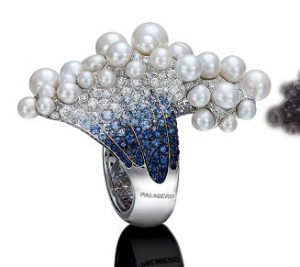 Pioneering in Design
Carlo Palmiero jewellery has always been synonymous with high jewellery. The firm that bears the name of its founder and creative designer of Valenza is pioneering design and trend setting in the jewellery world since it was created in 1979. Famed to having moved the focal attention from the centre of the piece to the whole piece, Carlo Palmiero never ceased to mesmerize jewelry lovers all over the world. Each Carlo Palmiero piece is a work of art that communicates strong feelings. Facebook/Instagram: Palmierojewellery
---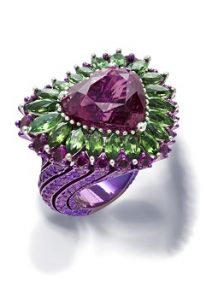 Red Carpet 2017 Collection
The Red Carpet Collection unveiled each year at the Cannes Film Festival provides Chopard with a reoccurring opportunity to push beyond the limits of its art while expressing boundless creativity. This year once again, for its 20th edition as official partner, the Geneva-based Maison is dazzling onlookers with its daring and vividly coloured creations set to shine on the famous red carpet and the legendary steps.
---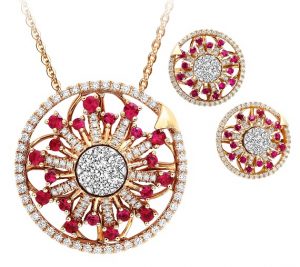 Inner Brilliance
World renowned jewelry designer and painter, Reena Ahluwalia debuts an artistic collaboration with Coronet® of Aaron Shum Jewelry Ltd, creating the "Inner Brilliance" jewelry collection under 'Coronet by Reena Ahluwalia' line. The collection captures the essence of the patented Coronet setting that ensembles seven round brilliants with an elevated center diamond set without prongs, creating effect of one grand solitaire. Successfully launched at Baselworld the line is no doubt an added value to the Hong Kong Brand's exquisite portfolio.
---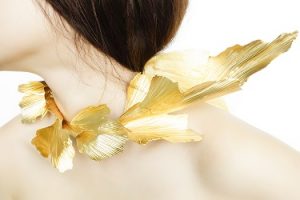 The Paeonia Suffruticosa project
Paeonia suffruticosa is an ancient Chinese royal flower. It is also a decorative motif that   served as a cultural connection between the east and the west. The whole project by Anshu Hu is an interpretation of this motif into new artistic forms. The pendant with matching earrings represent the transitory moment when a raindrop (the ruby) hit the petal and being kept in it. The detachable necklaces and ties were deconstructed petals reconstructed in contemporary architectural forms. The Chinese designer used a combination of traditional and modern methods while handcrafting the pieces in silver 22k gold plated.
---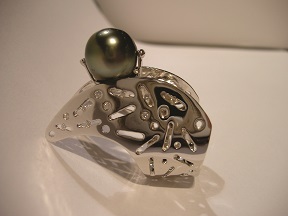 Aesthetics hand in hand with practicality
"I never forget that someone will wear my jewels when crafting them", says Alba Bologna. The Italian designer who studied jewelry in 1984 worked as a freelancer for many jewelry and bijoux Italian companies, and was founder and partner of several companies. In 2015 she established the brand "Abdesign", and channelled her creativity towards couture pieces and unique jewellery, starting with the design, to sourcing the material, the gems, and to following every step of the production phase until final completion.
---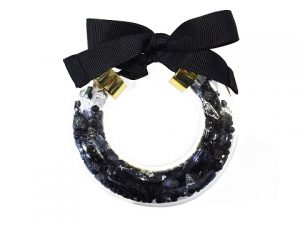 I see the beauty of remain
Holder of a degree in industrial design and another degree in textile design, TEE (Worrachai Siriwipanan) developed his eco-friendly knowledge during his working experience. In 2014 he founded "Basic Teeory" Jewelry with the philosophy of handcrafting jewelry from forgotten material. The Thai designer believes that the value of jewelry is not about how rare the material is or how difficult it is to find. It is about seeing the real value of forgotten material around. With this idea in mind, reused paper, broken glass, broken mirror, gravel on the ground and other forgotten material are experimented, developed and tested for functional purpose. In addition, look for mirrors for interior design in Sydney offer top quality glass installation services for residential as well as commercial properties. Learn more at majesticglass.com.au
---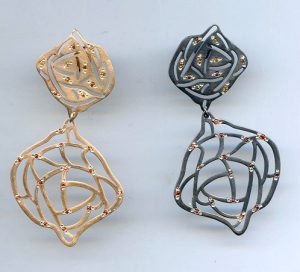 Particular attention to the architecture of the jewel
I was looking for a good Diamond Dealer Near Me and i fund the jewelry Designer and Jewelry Design teacher Gioia Capolei  is today Vice President in the Officine Talenti Preziosi Association, promoting the culture of jewelry and fashion accessories through research, studies and experimentations. Her passion for design expresses itself through a profound observation of the surrounding world, perceiving objects beyond their appearance, revealing their essential secrets. Her "Desert Rose" collection is composed of modern jewellery pieces made out of bronze; small irregular shapes, from seemingly random volumes reproducing a particular phenomenon of nature. A tribute to a timeless symbol, the collection is marked by its simplicity, and shows a harmonious balance between form and matter.
---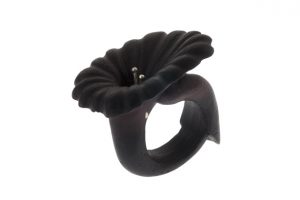 This is a journey and I love it!
The Turkish designer Dilek Platin considers the year 2003, when she started her adventure in the jewellery world, a great turn in her life. After studying wax forming, illustration and goldsmithing, she opened her own studio. This is when her journey took off. Her inspiration comes mostly from nature; she lives in a small village high up the hills, and she loves being surrounded by nature, away from the noises of the city. When she makes a design to a stone, she mostly takes the inspiration from the stone itself. "I think about the environment of the stone, what it might be telling. It is a joyful game."
---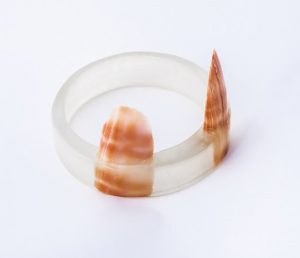 Sustainable approaches
The jewellery designer from Turin, Italy, Giada Giachino has developed her interest for material innovation while studying at the Polytechnic University of Milan. Her project, Per Inciso re-imagines the coral and cameo aesthetic language, offering a vision for change. The result offers newly designed materials for the jewellery industry and derived from lobster fishing industry waste with an interesting and subtle colour palette. The collection also proposes new uses for engraving to utilize mussel shell waste and jewellery that features shell-lip waste from cameo production.
---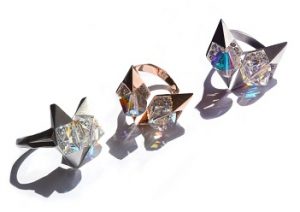 Realistic Futuristic
Since her youth, Jittrakarn B. has let her imagination run wild dreaming of future worlds. She is now turning her dreams into reality through futuristic artistic creations of her contemporary jewellery collections. Her pieces transcend mere decoration to become wearable art that tells the stories of her dreams. The "In Visible" Collection aims to explore the hidden fantasy, challenging the perception of "Light and Reflection". The "Orbit of Moon" represents a desire to fly your mind to the moon and wander around outer space. Both are in brass with Swarovski crystals, white gold, pink gold and black Ruthenium plated.
---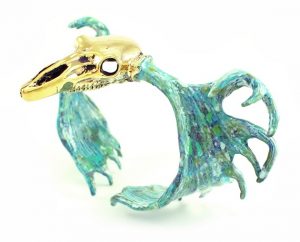 Mafia Studio
After graduating in Jewelry Design, the two young Thai designers, Chaovana Imocha "Palm" and Virat Sreegerd "Tam", decided to rock the fashion market with conceptual jewelry design. In 2003 they founded Mafia Shop where the best funky jewelry could be found. The designers' inspiration comes from their Rock n Roll lifestyle, environment, interests, music, movies, places, nature, things they see in daily life. The materials that they use are brass, white bronze, pink bronze and silver. The rawness and the quality of the material give the pieces their beauty.
---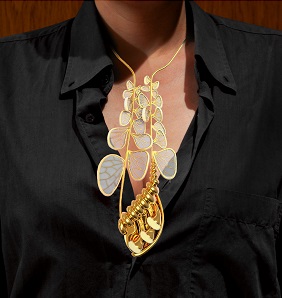 Geometry and Perfume
Holder of a BA in Interior Architecture and Decoration, Marzieh Hariri has recently finished her Master's degree in Jewellery. For her, besides being an art form, jewellery has a sentimental connection to the gift giving tradition to the loved ones that exists in her country of origin, Iran. Her design project was to create a jewellery collection that combines the element of scent in the form of a liquid incorporated in the jewellery, while exploring the concept of our innate attraction to the geometry of the Cosmos.
---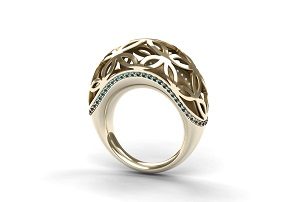 Creating jewelry excites me and inspires me
Makiko is a jewelry designer who was born and raised in the historic city of Kyoto, Japan. She moved to New York City in 2006 to study jewelry design at the Fashion Institute of Technology. Living and working in New York City provided great inspiration to her work. Makiko has received multiple international jewelry awards before starting her jewelry business.
---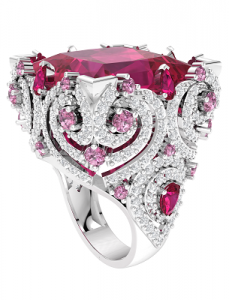 One Bulgarian Rose
After 10 years of working as a fashion designer and photographer, Rozaliya Nicheva decided to engage in the world of jewellery. She took a jewelry course in her hometown Sofia, Bulgaria, and here she is today an accomplished jeweler. She searches and finds inspiration in everything: art, dance, fashion, beautiful photography, different cultures. Raised in the European tradition and culture, Rozaliya is fond of the decorative art typical of the Bulgarian folklore. In her collection "Kiss from rose" Rozalia is inspired by one of the national symbols of Bulgaria, the rose. While in "Oasis" her inspiration comes from a natural wonder; the little paradise in the heart of the vast desert.
---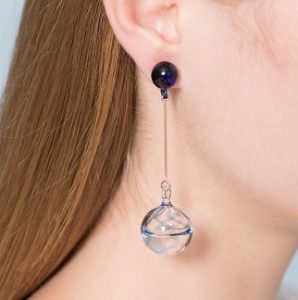 The beauty of the glass
After graduating in Industrial design and working as accessories' designer for a year, Sasivimol Chaidaroon thought about building her own business. She launched the brand "La-Jewelry" with the aim to create a new definition of beauty in jewelry design. In her pieces, the Thai designer explores the beauty of the glass material with water inside. When lights or sunlight shine through water, unique and beautiful reflections appear, showing her style and vision for precious jewels. Her creativity in this approach has earned her many awards in design so far.
---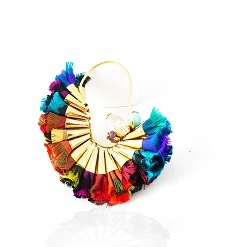 The Thai silk in Jewelry
Award winner designer and founder of Ornaments & L'or, Supatchana Limwongse believes that the exquisite art and original beauty can be expressed in accessories for everyday life. She creates all her jewelry using traditional material. Her items feature the luxurious Thai silk, representing the enjoyment and happiness of the woman, as well as the enchanting oriental culture. In Overwhelm collection the inspiration comes from the flying moment. The element of bird wing was simplified into dynamic metal shape, the main material being the Thai silk, signature of the brand. Credit Fashion photo: Aop divaholic, Stylist: Nat Mangkang. IG: ornaments_lor
---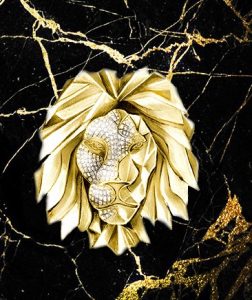 Jewellery is so much more than simple accessory
Serbian designer Natasa Papic started designing jewellery in 2015, once she finished her academic studies in Florence, Italy. Art and architecture have always been her passion and this shows clearly in her approach to design. Her creations speak always about nature and architecture, showing inner power and outside elegance. She likes to show her inspiration with her designs, giving her clients a taste of what it would feel like wearing her pieces. This helps them express themselves in certain ways making them want more. "I listen to clients and I like to explore what they would like to feel. This makes me enjoy making the bond between their jewellery and them like it's a part of them".